70th Birthday, Private Home, Killara
"The highlight of my 70th birthday celebration! Your ability to blend minutiae, trivia and obscure scuttlebutt into such an entertaining presentation was greatly appreciated... Thanks again for a great performance and long may you roast together."
Dr Julian Lee, famous dogmatic thoracic surgeon and controversial medico-legal expert
What we sang about them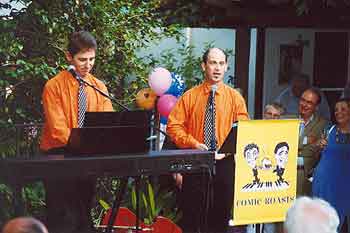 Barmitzvah, Taronga Zoo Centre
"Thanks again Comic Roasts - a great performance - and everyone is still raving. Part of the delight in particular was that no one expected it. I asked the Rabbi if we could change to 'our version' of Maoz Tzur this Friday - he said he might try!"
Dr Gerry Moses, Vaucluse
What we sang about them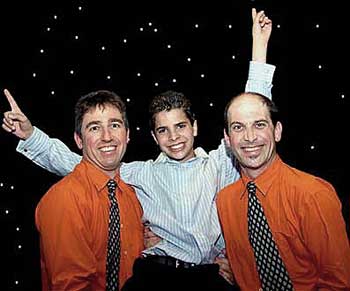 David and Geoff with barmitzvah boy Simon Moses

Retirement of Australia's Chief Rabbi, NSW Art Gallery
"Thankyou for your outstanding contribution last night to our "Fond Farewell" for Rabbi and Marian Apple. Your comic roast was absolutely hilarious and so many people have commented on what fun they had during your performance. We are most grateful for your participation and we hope you enjoyed yourselves as much as we did!"
Herman Eisenberg, President The Great Synagogue, Sydney
What we sang about them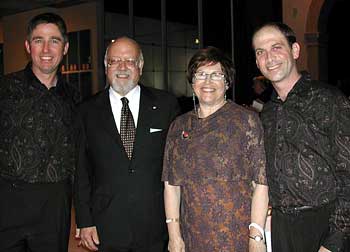 David & Geoff with retiring Chief Rabbi Raymond and Mrs Marion Apple

60th Birthday, Kirribilli Club, Sydney
"I can't tell you how many and glowing the reports on your performance have been. Absolutely everybody loved it. Grown adults said it was the best party they have ever attended! It was a first class performance. The evening was all and more than I hoped it would be. There are not enough people in this world throwing a bit of happiness around. Thank you.The two of you are geniuses!"
Harold Ball, Sydney
What we sang about them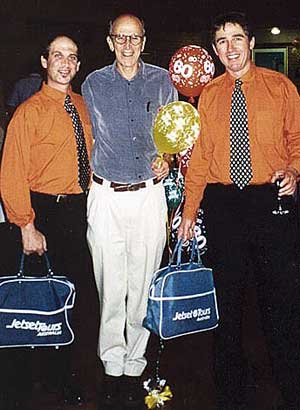 "Satirical songsters Comic Roasts gave a musical atmosphere with a selection of witty songs - and even had the audience singing along with 'Wonderful Wonderful Dicky Lampert'!"
North Shore Temple Emanuel Magazine
What we sang about them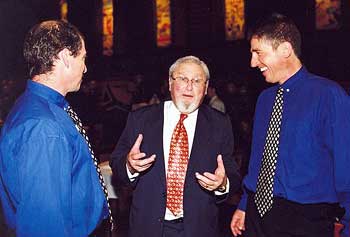 "Comic Roasts have become a benchmark at our school - a benchmark for fun, friendliness, comedy and a perfect feel-good night. Whenever we're discussing future events now, the comment is always: 'Just so long as it's as good as the Roast night' or 'We really want to get the same feeling as the Comic Roasts show'. Congratulations Geoff and David."
Sharon Carleton, Function Producer, Reddam House
"One of the highlights of the year. Your performance was witty, sophisticated and helped make for a wonderful shared morale-boos for parents and staff alike. Well done!"
Graeme Crawford, Managing Director, Reddam House
What we sang about them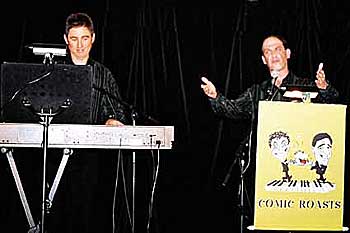 "My family and friends have only superlatives when commenting on the
Party and at the core of their comments was your smart, funny and lively
entertainment. Your research made the evening inclusive and I am told by
many the most memorable evening in years. My personal thanks for making
the evening an event of a lifetime."

Ken Lipschitz, Pyrmont
What we sang about them
"What a success! Our family and guests all thrilled to the fun as you hit the nail on the head in every way. Well done Geoff and David!"
Gil Nabarro, Vaucluse
What we sang about them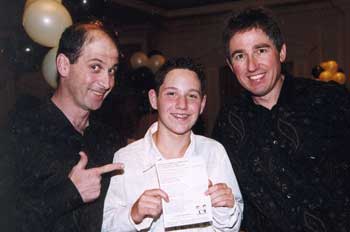 Shalom Institute, NSW University, Sydney
"You were simply superb. Your 'roast' of Susie was humorous, satirical, touching, poignant, brilliant. We have been overwhelmed by the rave reviews - everyone, without exception, loved it and was moved by it. It really made the event so unique and memorable. Susie and the Institute will treasure the video we made. I really cannot thank you enough."
Hilton Immerman, CEO, Shalom Institute, University of NSW, Sydney
Snr Manager Retirement, University of NSW, Sydney
Retirement
"Thank you both for a fantastic performance last night. It made the evening so memorable for Harry, Yaffa and all the guests. My sides are still sore from laughing! You managed to capture all that makes Harry so special to his family, staff, students, parents and friends."
Pauline Don, President Parents & Friends Association
MT SINAI COLLEGE
What we sang about them
60th Birthday
"Your presentation at the party exceeded my expectations. Thank you both so much. You are professional, funny and managed to extract so much information over a cup of coffee… I am amazed and delighted! Many, many thanks for topping off a great day for Ric and me."
Sandy Lawson, Kirribilli
What we sang about them…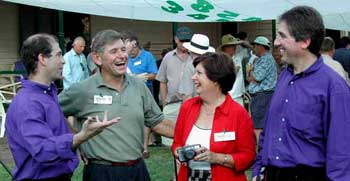 Geoff and David with birthday boy Rick Lawson and his wife Sandy at the Basin, Pittwater.
90th Birthday
"Heartfelt thanks from all our family & friends for your wonderful personalised cabaret, making my dear papa's 90th Christmas so very special. Everyone laughed 'till they cried as well as being really moved by the whole performance. I can't thank you enough."
Wendie-Sue Lyons, Woollahra
What we sang about them
60th Birthday
"Very professional, clever and extremely funny… great attention to detail…the level of 'roast' was comfortably received. All the guests loved every minute of the performance as did the birthday boy. Thank you Geoff and David!"
Sue Murray, Longueville
What we sang about them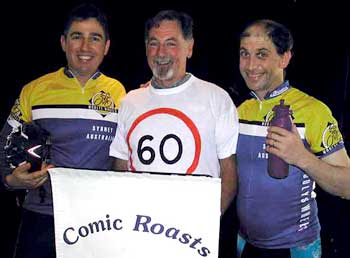 Cycling fanatic Tim Murray was chuffed with his birthday roast
Barmitzvah
"Thank you very much for the performance, Geoff & David. It was incredible... really, really wonderful! Danny loved it, everybody in the audience loved it. They haven't stopped talking about it and ringing us to give us great feedback. Thank you for making the occasion so special for us. We really appreciated your involvement."
Jackie Marcuson, Rose Bay
What we sang about them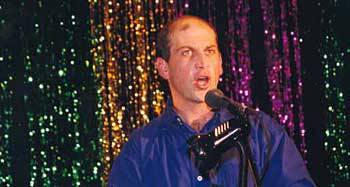 Barmitzvah
"Thank you! Thank you! You were the highlight of the party and made it a true success. Your songs and repertoire were hilarious and thoroughly enjoyed. You totally captured the image of our 'successful dysfunctional family' through your catchy lyrics which have now become famous throughout the Russian community! You made this happy occasion truly memorable not only for the family but for everybody who was lucky enough to see you."
Marina Sokol, Dover Heights
What we sang about them
Combined 50th and 60th Birthday
"How can I adequately express my thanks for last night? Your wonderful performance far exceeded all expectations and contributed greatly to a wonderful party. I've had so many friends call today to say how fantastic you were. They were all amazed with your knowledge and use of Sara and Martin's little idiosyncrasies.
Thank you sooo much - you were fabulous. Look forward to talking to you again soon."
Angela Lipman, Rose Bay
What we sang about them
40th Birthday
"Geoff & David, you went through your routine as if you were old family friends. Your preparation was outstanding, resulting in an exceptional evening of entertainment. Thank you!"

- Anthony and Jennifer Holman, North Bondi
What we sang about them
New Year's Eve
"Thank you very, very much for your wonderful performance at Millennium New Year's Eve Charity Function. You were wonderful MCs, gave us more than we expected and brought a wonderful dimension to the entertainment of our guests. We look forward to the next occasion!"

- Rod and Judy Morton, Vaucluse
What we sang about them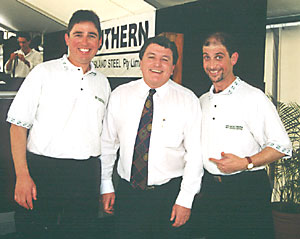 David and Geoff with Brisbane Lord Mayor Jim Soorley


50th Birthday
"Thank you for the wonderful entertainment you provided… The jewel in the morning was, without doubt, the extremely talented performance you both provided. The way in which you brought focussed interest to such a diverse crowd - in a most tasteful way - is really appreciated. We also appreciated the time and trouble you took to research your material. Thanks again!"

- Jeff & Lindsay Reinhardt, Castle Cove, Sydney
What we sang about them
Twin 50th Birthdays
"A fun and exciting addition to our party; enjoyed by ourselves and all our guests. It was amazing how you managed to put together so many facts and present in such a hilarious manner. I can sure recommend you to others!"
- Cecil Hoffman, Vaucluse, Sydney
What we sang about them
School Community Celebration
"Thank you for a superb presentation. The feedback was brilliant from everyone who attended. It was exactly what we wanted... and precisely what we needed! Perfect. I can not tell you how many people came by to say how fantastic they thought your show was. You not only worked the audience, you absolutely wowed them."

- David Shaw, Director Informal Studies, Moriah College,
Queens Park, Sydney
What we sang about them

'Roastee' Brisbane Lord Mayor Jim Soorley
(and other guests) enjoying the heat!
End-of-year Staff Party
"Thank you for a wonderfully entertaining show you put on for our end-of-year staff party. You provided an irreverent and light-hearted exposé of our weaknesses and strengths and enabled us to meet our objective: entertaining our staff members with something different."

- Carin Cohen, President , Masada College, St Ives, Sydney
What we sang about them


70 th Birthday, Private Home, Killara
(To the tune of A Policeman's Lot is Not a Happy One)
When a specialist has much to do with smoking (Do with smoking)
It's because he's concentrating on the chest (On the chest)
And he has to do some pinching and some poking (On the chest)
He'd agree a female patient would be best (Would be best)
But the air is tense when smoking is just passive (Is just passive)
Cos the advocates and experts don't agree (Don't agree)
Time to call in Clayton Utz… who are aggressive ( but impressive!)
And get evidence from Doctor Julian Lee (For a fee....!!!)
When the medico and legal sectors clash, sectors clash
Phoenix-like retired doctors rise from Ash! (Rise from Ash!)
What they said about us
Barmitzvah, Taronga Zoo Centre
(To the tune of What a Difference a Day Makes)
What a difference a day makes, for a young Simon Moses
It's less chocolates than roses: more Bartmitzvah than Bart!
While yesterday I thought: "Oy! I'm just the middle Mo Boy!"
Now the girls are saying "Go boy!" I must learn a whole new art...
(And that's just the start!)
What a difference a day makes: must be nice to my sister!
In shule I even kissed her… in front of the Rov!
Without wiping it off!
It's so demanding, where a 12-year-old's standing!
What a difference a day makes… when becoming a man!
What they said about us
Retirement of Australia's Chief Rabbi, NSW Art Gallery
Dignified, drily humorous, wise and popular cleric.
Raymond is a rabbi who seems serious, but he really love to have a laugh
Bursting into peals of joy delirious sharing jokes with congregants or staff.
Font of wisdom, bucks the system, charms the secret'ries to do his work...
Sends sermons all round the world by emails,
Constantly mobbed by the shules old females!
Rabbi's the toast of the women's tefillah, just don't start with the whole megillah!!
Though he's very modest, Rabbi has his charms,
That's when he's not scolding from the pulpit with crossed arms!
Door is always open, offers cups of tea...
Or Johnny Walker... just in therapeutic quantities!
What they said about us
60th birthday dinner, Kirribilli Club, Sydney
Cheery, fun-loving (almost) retired travel agent
(To the tune of Mame)
You've got the knack for making things fun! Harold!
You're master of the sickening pun, Harold!!
You've got a gift for settling an awkward situation with a song
If someone's feeling gloomy, you bring 'em round and make 'em sing along!
You put a smile on everyone's dial, Harold
You keep a log of every air mile, Harold!
Our Harold singlehandedly keeps the major airlines in the black!
Now you claim that you're 'retiring', no-one's bought that, they're still hiring…
Harold Ball to keep their business on track!
What they said about us
Rabbi's retirement
Long-serving, ex-South African social-justice fighter
(To the tune of Wonderful Copenhagen)
Wonderful, wonderful Dicky Lampert! Doyen of Temple North Shore!
Now his sympathy's with the Wallabies and he's Aussie to the core…
Wonderful, wonderful Dickie Lampert, made all our numbers increase!
Though he's now retired, he's left us inspired,
With his faith and fun and thunder down under…
A fighter for justice and peace!
What they said about us
(To the tune of the Gendarmes Duet)
We are the famous Reddam Parents and we like to get our way!
We are resolved to get our money's worth: we phone the teachers night and day!
But when they don't return our messages or give our kids good grades, we scream!
We call the boss! We call the boss: Crawford, O'Neil or Balios!
Go to the top (without delay) And send them bald (or turn them grey!)
We are the Reddam parent team!
Reddam House (Sydney Private School) Parent-Staff Cocktail Party & Revue
(see media page also)
What they said about us
Opinionated gay corporate grandfather who loves to cook for friends and family!
(To the tune of Moondance)
It's a marvellous night for Ken Lipschitz when the big boy is turning threescore...
And we're all here to join in the party, drink his wine and then dance on his floor
And the fam'ly have come from all over to toast Ken in the way he deserves
And the gang have turned up mostly sober, and we'll feast on his famous hors d'oeurves
You know he's host with most then at the Lipschitz Cafe
And we're going to roast Ken in our own special way!
The King of Swing and Partying whose family's first!
The patriarch whose Saab is parked in ... Darlinghurst!
What they said about us
(To the tune of Our Don Bradman)
Who is it that all of Sydney raves about? Who excels at everything he does?
He'd beat the Scud at Tennis, he'd hit Brett Lee for four
And still look smart to break a heart when girls knock on his door!
Jordy's quite a fella, he can cook a pasta or a pancake meal
Adds nutella, which enhances almost any food's appeal!
He can chat for hours on end to his friends on MSN
And his school bag is a scary grave for scraps!
Our mate Jordy, on his way to his Australian caps!
What they said about us
Shalom Institute, NSW University, Sydney
(To "The Perfect Nanny" from Mary Poppins)
If you want this choice position, have a sunny disposition.
Brooches, scarves…. dark eyes…white hair! No dyes!
You must work late while Hilton lingers, word process with just two fingers
Lose your glasses 'round the joint. Felt pens: fine point!
Never be loud or rude, don't consume any sugar in your food.
Always be calm and quiet….except when on some fad crash-diet!
Go learn computer with great patience; save your files to strange locations!
Don't take ever back down when some bastard barks
But always make a mess of your re-verse parks!!!
If this is you… and you're cute… Reply to: Shalom Institute!
What they said about us
Retirement Cocktail Roast
Much-loved, long-time principal's retirement
(To the tune of "Edelweiss")
Harry T! Harry T! Sultan of Mt Sinai
Calm and kind, colour blind… and for talent a fine eye
You've inspired our kids to learn: this school really suits you
You're the best: take a rest! The Sinai Family salutes you!
What they said about us
60th Birthday Roast, The Basin, Pittwater, Sydney
Dreamy sailor and romantic husband…
(To the tune of the "Gavotte" from The Gondoliers)
Good that when beside him, Sandy thinks out aloud -
That because when driving Richard's head is in a cloud.
When Sandy does the crossword, Rick must say his piece.
But when it's time for 'docking' all their conflicts cease!
Rick is a charmer who likes a glass
Sandy's a lady with big… class
When they're together they cut a figure
Like an etchell, sailing in the twilight breeze!
What they said about us
90th Birthday Luncheon Roast
World-famous gynaecologist, national sporting legend, naval surgeon and war-hero
(To the tune of "Our Don Bradman")
Who is it that all the ladies rave about? Who has us in stitches all the time?
It isn't Mo McCackey, it isn't Maggie T. It's just a lad from Bondi who's the king of surgery!
Yes it's Ste-ven Manning: you can trust him with your life or wife…
Ste-ven Manning: there's no finer wielder of a surgeon's knife!
He'll will always win your vote… in the theatre or a boat
And he'll talk your head off if you let him, too!
Ste-ven Manning … all your friends and family cheer for you!
What they said about us
60th Birthday Luncheon Roast, Lane Cove Country Club
Raconteur, bon vivant, TV addict and keen cyclist
(To the tune of "Oh What a Beautiful Morning" from Oklahoma)
The Lizard of Longueville's lounging
Watching cable - or in the fridge scrounging.
He won't spend a cent on upkeep or repair…
But if there's a cycle gear sale - he'll be there!!!!
Let's cheer for Christopher Murray
Peddling his way to the top
Giving us pleasure… or curry…
We hope that you'll never stop!
What they said about us
Barmitzvah, Royal Motor Yacht Club, Point Piper, Sydney
Grandparents: extroverted over-catering Hungarians, and South African queen and 'hippy' grandad
(To the tune of "The Wiener Schnitzel Waltz")
Do you remember the feast we had in the East
When we ate to the Wiener Schnitzel Waltz?
The pastries were Viennese, the fish was Hungarian
Dumplings so big they were delivered by Caesarian…
Johnny ate one and then lost his pulse
Sauces down, Lipids up, to the strains of the Wiener Schnitzel Waltz!
(To the tune of "Mona Lisa")
Jack and Riva, Jack and Riva you're two wonders
One's a hippy, one's a classic Capetown queen
Jack is always making business venture blunders
Riva's histrionics always make a scene.
Can you find a weirder couple? Jack and Riva!
Can Jack's long-haired eccentricity be blamed?
Many schemes he comes up with are charming,
And quite SNAG-gy like duck farming.
His Mascobi Ducks will never get to Peking
'Cos it's hard to part with someone that you've tamed.
What they said about us
Barmitzvah Dinner, Hakoah Club Bondi
Self-confessed 'bludger', wheeler-dealer adolescent with an eye for 'hot' babes…
(To the tune of "A Fiddler on the Roof")
Away above our heads, upstairs in Dover Heights
A bludger on the loose, avoiding work all night.
He bludges off at school, he bludges when he's home
He'd rather watch TV, talk on his mobile phone!
What can we do with Ian, it's a mystery
Won't do work in History, Art or Science class
And the only thing that keeps him doing Maths
Is lusting for Miss Dannon's arse.
He doesn't miss a chance, he doesn't miss a trick
He has to watch TV 'cos homework makes him sick!
Tonight he's now a man, so needs an adult fad
Perhaps he has a plan to take - up - golf - like - Dad!!!
What they said about us
Combined 50th & 60th Birthday
Couch-potato tee-totalling coach driver and his high-powered shopaholic sister-in-law …
(To the tune of "Anatevka" from Fiddler on the Roof)
A little more of this… A little more of that… A chip… A pack… A mid…night snack!
Who do we cheer, with a beer? Our mate Martin Blackman…
Martin Blackman drinking cola: driving his bus like a fat controller!
10 DVDs inside his pack…
Sara Lancer Sara Lancer: why does that catalogue crap entrance her?
Keeps 'Innovations' in the black!
When they get together it's like chalk and cheese
Can you explicate that story, please? For Sara Lancer…
Sara Lancer, Martin Blackman
She plays golf, while he's stays playing Pac-Man!
The only in-laws who are thick… as thieves!
What they said about us
40th Birthday Dinner at swish Sydney beachside restaurant
(Hyperactive, athletic career woman and supermum)
(To the tune of When Frederick was a Little Lad
from Pirates of Penzance)
When Jenny was a little lass,
She learned to do things faster
By evading boys at King Edward school,
Where her Dad Bruce was headmaster…
She would write and read at a record speed
(even for a young McMurray!)
She would rave and rant, but when she met Ant…
She got worse… which is a worry!
For now she's high in North Bondi,
Living life both fast and sunny.
And to her friends it seems that Jen's…
The Energiser Bunny!
What they said about us
50th Birthday, Royal Motor Yacht Club, Pt Piper, Sydney
Mad bridge player, audiologist and poet!
(To the tune of The Girl from Ipanema)
Small and dark and lower northern:
The Girl from Castlecove's off to Gordon...
And when she's playing, all the bridge girls are saying is SHHH!
Every Wednesday, there's patients queuing
They needn't wait… there's nothing doing
The sometime bard's now playing cards, so SHHH!
SHUSHH! Don't break her concentration,
'Cos bridge is her real occupation.
She's rescheduled all of her patients!
Audiology practice can wait -
When your manager is your bridge mate…
What they said about us
"Tales of Hoffman" Combined 50th Birthdays,
Ritz Carlton Hotel, Sydney
Mysterious investment whiz who only gets out of his PJs to put on tennis gear … and his artist and social butterfly wife!
(To Offenbach's Barcarolle)
Tales of Hoffman, please don't nod off, man:
Hell of a tale to share!
We could have dressed proper-er, like in the opera
But we chose sporting wear!
Cec looks formal: That's not normal…
Mostly he's in shorts.
That's because his usual posi's
On the tennis courts!
While Norma's on the phone, living life to the max
He spends his days at home, making millions by fax!
What does he do? Behind that door?
What does he do? No-one's quite sure? Ahhh!
Nessun Dorma, Cec and Norma, none shall sleep tonight!
We're going to roast yer, musically toast yer,
Give you an awful fright…
Though we're here at the Ritz, we will give you the… hits!
'Cos the secret is out: it's your birthdays!
What they said about us
Millennium Charity Party
For the Garvan Institute, New Year's Eve 2000
(To the tune of The Rose Bay Ferry)
… Now if you're slow and get there late,
There'll be no parking by half past eight
But that won't ruin your harbour view
'Cos the Mortons' roof's like the QE2!
Sweep up the stairs with hubby in-tow,
Wave at the poor old plebs below!
Have another drink while it's Rod & Judy's shout
You can't drink-drive when there's no way out
Where are you going tonight, Mrs Nicholson,
After the computers all crash?
If the lights go out, while you're out and about
You might as well be at this bash!
So drink like a fish and dance like a groom
And eat like a gastronome.
Tomorrow there's no power,
So take a cold shower
When you've walked the long way home, home
You've partied at the Mortons' home!
What they said about us
Moriah College End of Year Celebration
Jewish school, Sydney
I am Moriah College and my campus is quite new-ish
It's like Kambala or like Scots… except that we are Jewish.
We all chew gum, put make-up on and gold adorns our features
We say our prayers, then bludge a class and talk back to our teachers!
I am Moriah College with big photos in the foyers
The parents are litigious cos the board is stacked with lawyers
They'll start a fight at parent night about the stuff we've fed 'em
If they don't get their way they say they'll take their kids to Reddam!
Moriah College: the home of Jewish Knowledge
We show the others, the Jew-ish way!
What they said about us
Masada College end-of-year staff Christmas party
Ritzy private school, Sydney
(To Away in a Manger)
Away at Masada, in the thick of St Ives
We confine each young genius for the prime of their lives
The mums all have Taragos and the kids, mobile phones
And they use them when there's gridlock in the 'kiss and drop' zones.
The parents are pushy and each kid owns a car
And they think that Killara's a suburb of South Africa!
We love you Masada, 'our rock and our fort'
But the Christmas vacation will be six months too short…
What they said about us