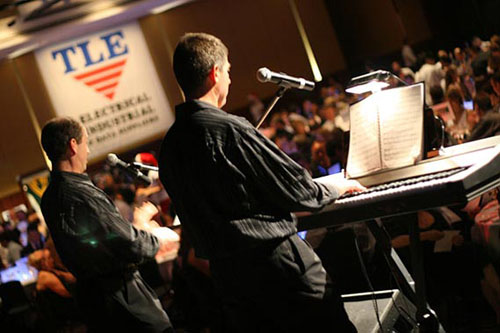 A Comic Roast is a 30-minute tailor-made musical revue that satirises your team, while celebrating them in song! Comic Roasts create a show of song and 'shtick' that roasts your boss and toasts your team, all set to familiar tunes. And because it starts with a thorough personal briefing, the comedy always hits the right note! Here's how it works at the event:
Imagine you're at a conference dinner, company celebration, client function, retirement 'send-off' or other special event. Everyone is pleasantly relaxed… but with no idea of what's to come. The MC rises to the platform to introduce the guest presenters - two "top investigators" from the industry regulatory body! Eyebrows raise.
It seems the pair have been going over the organisation with a fine tooth comb, trawling through HR records, scrutinizing fringe benefits and enjoying full access to staff e-mails. "Please give them your full attention." There are looks of concern all around!

The pair accept the polite, if nervous, applause and announce they're about to release their findings. Then they explain they don't go in for the usual audio-video props and toys - 'Death by PowerPoint'.

"No," they say, "We prefer to sing our reports." The game is up!

With a flourish, the pair launch into their musical-satirical routine, David at the piano, Geoff at the microphone. As the laughter flows, the organisation is parodied and pilloried, the boss is gently barbecued (medium rare... just pink!) and staff are celebrated in song.

Familiar 'issues' are set to well-known tunes, the team's successes and slip-ups immortalised in popular song. And the spooky thing is: it seems like these guys really do know your organisation inside out!

And when it's time for the big sing-along finale, the audience doesn't need a second invitation to join in! Hands on heart - with lyric sheets in hand - the whole room sings along loudly and proudly to their own new 'anthem'…

Nothing could be more morale-boosting or team-building. Or more fun.

This is the unique appeal of a Comic Roast!